[Azure] News for Developers, July 2017
Are you having trouble keeping track of everything that's going around in Azure? You're not alone! In an effort to do so myself, I'm starting a monthly series called "News for developers" which is exactly that: a summary of all of the Azure flavored news specifically for software developers. Now this is based on my personal feeds and my personal opinion, so you might miss things or see things which in your opinion do not matter. Feel free to leave and comment below and I'll see what I can do for the next edition. And honestly, this is more a personal reference than anything else so having actual readers would already be awesome 🙂 Enjoy!
App Services updates
Here are some important updates from the world of Azure App Services:
The app services team now keeps track of their updates in blog posts and in this github repo!  And you can find a monthly update on their blog as well.
Visual Studio (Team Services)
From the world of Visual Studio team services:
There's a new editor for release definitions and an updated workflow for pull requests. The editor I already used myself and it's a pretty sweet visual representation of the release flow in your application. Check it out!
Upon completion of a pull request, you can now automatically mark all linked workitems as Done. Get it done!
Also in the PR department: a policy now allows an automatic reset of reviewer votes when new code is being pushed.
Personal favorite: you can now view the original diff of a file once a code update has been pushed. This makes it a lot easier to check out changes to the code which you commented on previously.
Multiple updates to task groups include: versioning (draft), references and import/export of a task group.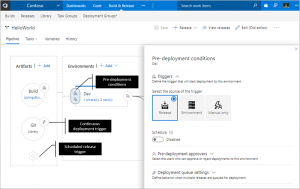 Check out https://www.visualstudio.com/en-us/articles/news/2017/jul-14-team-services for the complete overview.
Other
Here's all the stuff that didn't fit into one of the above categories:
John Papa (yes, the one and only) released Azure Function Tools for Visual Studio Code which allows you to use TypeScript within your Azure Functions. Download it from the marketplace here.
For all of you Angular folks out there, Angular version 4.2 is now available.
In the "services that might come in handy one day" department; Microsoft Stream has been made generally available. Stream offers powerful video streaming services combined with intelligent stuff like automatic captioning, face detection and other AI features. Click here for more.
That's it for this month, see you next month for another round of Azure news!