Creating and editing documents online: SkyDrive
A lot of buzz was generated this week as Google announced Google Cloud Connect. A plugin which you can install on you Office equipped computer to save documents to Google Docs. Wow, what a revelation! Or is it?
I've been using Microsoft SkyDrive for a while now, which originated out of Office Live! SkyDrive is like Google Docs, offering an online platform to save your documents and files to. With a standard free SkyDrive account, you get 25GB of free storage space to use and even better: it comes with the all new Office 2010 WebApps! For those of you not familiair with the Office WebApps; it's like Word and Excel but in your browser. So even when you don't have Office installed (on your laptop or tablet for instance), you can still read and edit document. And yeah Google-fans, I know there's Docs out there, but I find WebApps way better. Sorry.
Ok, so you might be wondering how does this work? Well it's actually pretty simple.
1. First you need an account. For that, just visit www.skydrive.com and sign up with your liveID. Nothing special there.
2. Once you've got your account, open up your skydrive. Normally you have a public folder and a private one if I'm not mistaken, but since mine has already been setup I'm not sure. Anyway, you can create as many folders if you'd like and control access to either the folder itself or the documents in it.
3. To create a new document, there's the "New" menu item. Click Word Document, choose a title and setup access control if you'd like. Click Save and there you are: the Word WebApp appears with your new document ready to edit!

4. You might want some more functionality, not everything the offline Word offers is available in the online version (yet). No problem. See the 'Open in Word' button? Click it, and your document will automatically open in a local Word instance (provided it's installed of course). You can edit it and CTRL+S will send all of your changes right back to SkyDrive.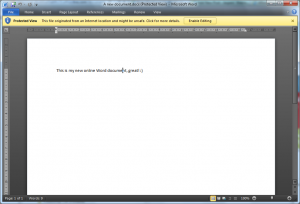 How cool is that? You can create, edit and share your documents all online and do so from within the familiar interface of Word 2007 and 2010. And when that's not enough, simple open the local client and do some more.
By the way, this not only goes for Word, but Excel, Powerpoint and OneNote too.
Let me finish with a little tip for corporate users with an iPad: if you use your device to create notes, you can use SkyDrive to do so with OneNote online. If you sync up your local OneNote installation with SkyDrive, you can load your iPad made notes in your OneNote on your laptop or PC. So no more e-mailing yourself and importing into OneNote; use SkyDrive (or SharePoint for that matter, that works in conjunction with WebApps too).