SP: Network shares and printers in SharePoint using Page viewer web part
A question asked oftenly by customers is: "I still have documents on network shares, how can I show those in SharePoint?". The reasons why they do not want to move files to SharePoint can vary. Note that I used documents in the question and files in my previous sentence, since a file doesn't have to be a document. So those files might be large video's or files for applications which can't handle SharePoint. Or they just didn't have the time to move them yet, there are all kinds of options.
To answer the question, we'd have to say: "it depends" again, since it does depend. You could look into the reason why the files aren't in SharePoint yet. Solve that problem and upload the files. You could also look into third party tools which let you sync the files to SharePoint. There are tools which can show the network share as if it were a document library. So depending on the requirements, there are multiple options.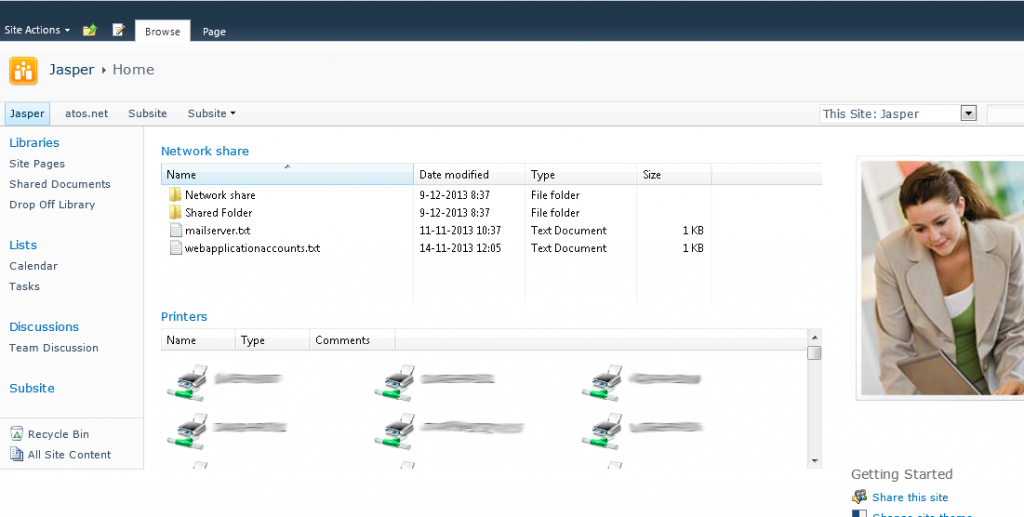 SharePoint site showing a network share and a list of network printers.
One which is often forgotten is perhaps the most simple one: the PageViewer webpart. You can add this webpart to any page and make it show a network share. The process is pretty simple:
Add the webpart to a page
Configure the webpart, choose "Folder" in the options and copy paste the network path to the "Link" textbox.
That's it.
Yes, it is really that simple! The page viewer will now show your network share on the page. There are a few things to know though:
Your user needs to be connected to the network for this to work. That's because SharePoint only loads a frame which displays content from another location. It doesn't actually do anything with the network share. A VPN connection will work too, as long as the network share adress is reachable.
Because of this, your permissions in SharePoint won't work either. What the user sees is dependant upon the permissions on the network share itself.
You can use the same functionality to show printers! When you have a printserver which lists all printers, this will usually be available via a network share too. So the process is the same. When structured properly, you could use this to provide your users with a simple way to discover and add network printers. Simply, by visiting a SharePoint page!
Two examples are shown above. The first web part shows a network share, the second a list of printers (I had to smudge the printernames, but you get the idea, right?). Simple, easy!